Toolbox
How much is it worth?
Historians are occasionally confronted with the question of the relative value of money. For example, how much was two pounds in 1880 worth or how does the average wage in 1920 compared with the present? This is a calculator for use with Australian currency.
Historical monetary value calculator
Document management - the paperless office
Although the idea of a paperless office has been around since the beginning of the computer revolution, in reality it seemed to create even more paper. For historians with their love of documents, taking notes, etc, the concept of doing history digitally or paperless has seemed almost anathema. While some aspects of historical research have lent themselves to being digital - note-taking, databases - still there were/are the copious paper documents of photocopies, reports newsletters, journals, magazines.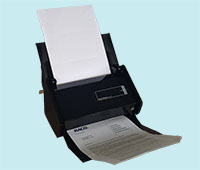 Several years I purchased a document scanner (Fujitsu ScanSnap S510) and it has been an invaluable tool. It is quite small and can scan up to 20 pages per minute double sided. The quality is excellent so I scan reports, journals, letters , magazines - anything that is A4 size or smaller. I output as a PDF file.
Now that is great - but there's more. The software that comes with the scanner also does OCR (Optical Character Recognition) so any scanned text becomes searchable. Coupled with an indexing program it means that every document I have scanned is fully indexed.
So far less paper and almost everything that is scanned is indexed!

Bibliographic software
There are various bibliographic software programs suitable for historians. The most popular is Endnote but unless you have aquired a student edition, it is rather expensive. An alternative I have been using Biblioscape.
It is a very powerful and fleixible program. Styles can be customised in a bewildering array of formats.
Bibliographies can be kept in folders according to each project or task. It has provision for cataloguing all sorts of materials including websites etc.
One of the best features is as a library catalogue. I have used two methods to catalogue my library. Very few entries have had to been fully entered manually. One method is to use Worldcat. This site is a mega catalogue of a large number of libraries in the world. Search for a book and you can easily download the details into Biblioscape. An even simpler method is to use a barcode scanner and scan the ISBN. Biblioscape has a inbuilt feature where you can enter the ISBN and then it checks against a number of major library catalogues (for example the National Library of Australia or even the State Library of Queensland) and automatically inputs the bilbiographic details.
GIS software
GIS software has the potential to be a great tool for historians. Who hasn't had to prepare or include maps and diagrams for an article, book or report. The great drawback has been cost. The most well known and popular programs cost thousands and it is difficult to justity the cost. I've recently discovered a open source program called Quantim GIS. It is extremely powerful with an active community developing upgrades, and comes with an impressive array of features.
Queensland religious buildings database
An ongoing project of documenting religious buildings in Queensland. This database has been compiled for various sources including local histories, theses and fieldwork.
Queensland religious buildings database
Useful software
Some software that I have found extremely useful and productive
Autohotkey
Autohotkey began as a simple program as the name suggests for providing hotkeys and keyboard shortcuts. It does that and much more. I use keyboard shortcuts extensively for opening programs and abbreviations for commonly used words. For example I have shortcut for Alt X for swapping two letters. The beauty of autohotkey is that the shortcut can be used across all programs.
But Autohotkey is much more - a programming language that is quite powerful and useful for writing all sorts of small and versatile programs. I have written my own project management software and also a program for ingesting images. Very good forum with plenty of helpful advice.
Locate32
Locate32 is a small program for quickly finding files. Works much better and much faster that the standard Windows program. It uses a database for quick reference. Very handy for locating files.
Xplorer2
Xplorer2
is a great alternative to Windows Explorer. It is very flexible and layouts can be customised with dual panes, preview windows etc. Keyboard shortcuts can be customised. Xplorer2 can be used for FTP and renaming files.
Vuescan
Vuescan
is a very versatile and powerful scanning program. Works with all scanners and numerous controls. There is a one-off payment for the professional version and a lifetime of updates for $79 but well worth it.
Snagit
Snagit is a screen capture program. I didn't know how useful a good screen capture program was until I spent $25 on this program.

ContactGrabber
ContactGrabber is a useful program that takes contact information from the clipboard, parses the information and then exports to Outlook.